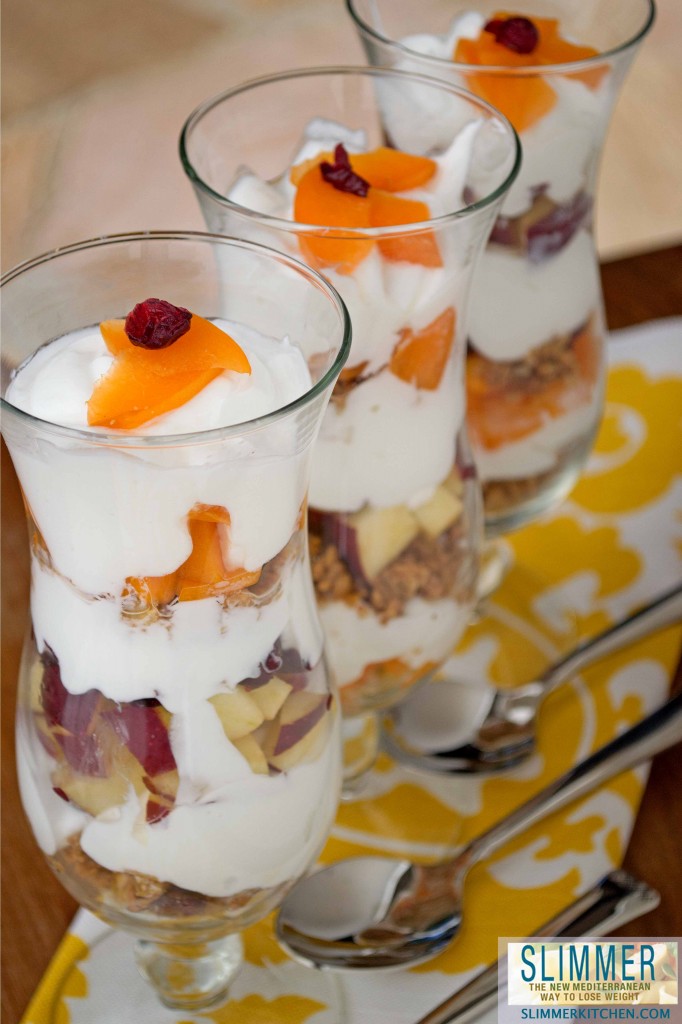 Today I made the Fruit Salad with Yogurt Crunch (parfait style!).  The ingredients were really lovely so I put them in a parfait glass instead of combining them.  I also made three parfaits at once and saved the other two for later, although my 8-year old daughter polished one off as soon as she saw it. According to the Slimmer book, author Harry Papas sometimes serves this as a light dessert at Maria and Eleni's Taverna.  I see why – apricots and apples are delicious together, especially with the creamy Greek yogurt, crunchy granola and hint of lemon and cinnamon. And when is the last time you had an apricot? I can't remember – I've had them dried in salads but not fresh. I will definitely buy more!
Here's the recipe…
Fruit Salad with Yogurt Crunch (recipe from Slimmer: The New Mediterranean Way to Lose Weight by Harry Papas, recipe used with permission, book released in June 2012, to buy the book click here or visit website at www.theslimmerbook.com)  Makes 1 serving.
For the Fruit Salad:
1/2 medium apple, cored and diced
1 small apricot, pitted and diced
1 teaspoon lemon juice
A dash of ground cinnamon
1 Tablespoon dried cranberries
For the Yogurt Crunch:
1/2 cup nonfat or low-fat Greek yogurt
1 Tablespoon granola
1 Tablespoon chopped walnuts
1. Combine the fruit salad ingredients in an airtight container and keep refrigerated until ready to eat. Also combine the yogurt ingredients in a separate airtight container until ready to eat.
2. To serve, combine both mixtures in a small dish and stir together. (Or serve parfait style as in the picture above)
Serves 1.
Enjoy!!