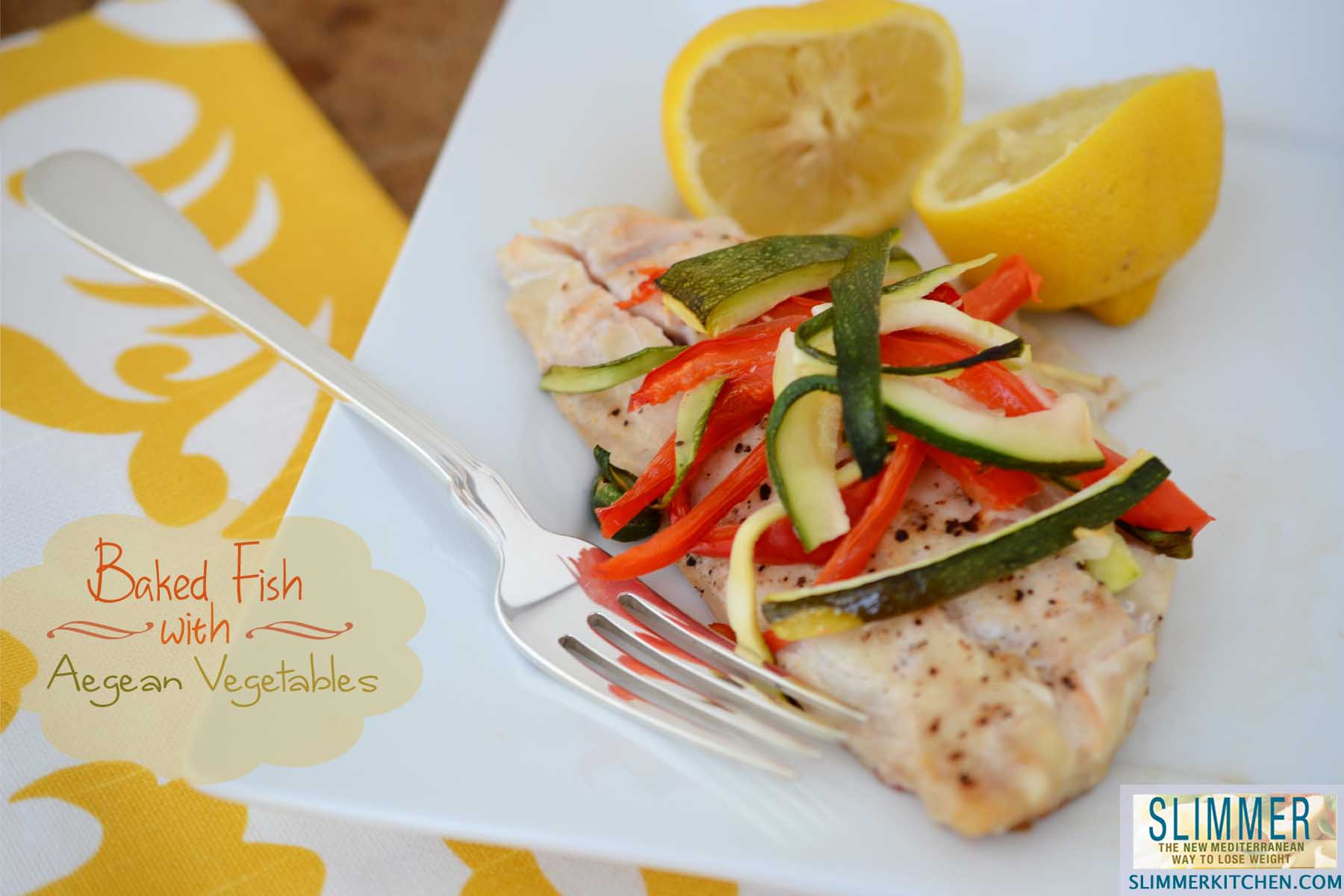 Baked Fish and Vegetables Aegean Style is a terrific recipe from Maria and Eleni's Taverna on Cefalonia Island, located in the Greek Isles.  The taverna, also called the Two Sisters' Taverna, is owned by the Mom and Auntie of Harry Papas, the author of the Slimmer book.
The baked fish is an easy and healthy weekday supper and everyone loved it!  Preparation is also fast – it only takes about 10 minutes to chop up the veggies, salt and pepper the fish and put it all in the oven together.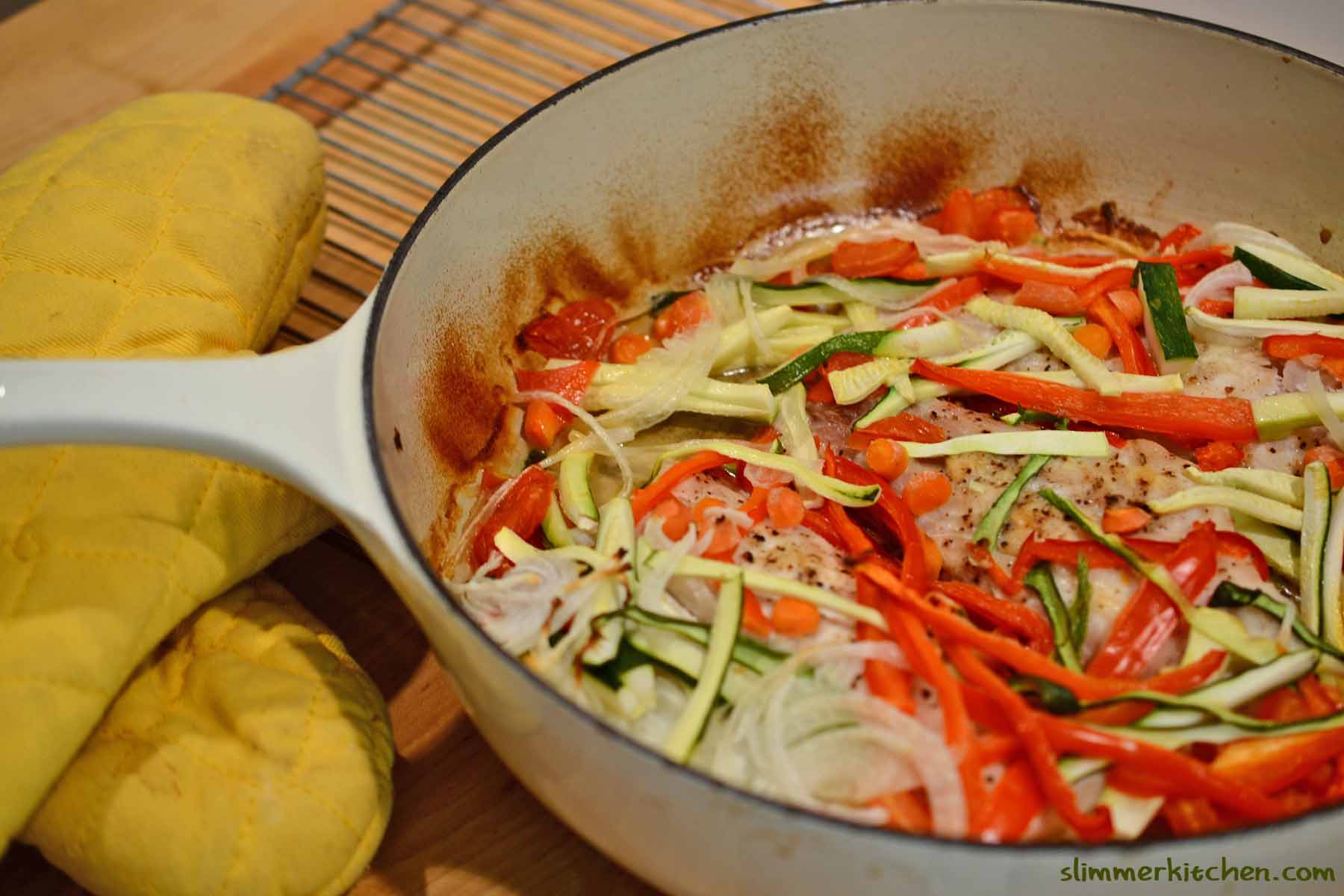 In fact, this is the fourth time (at least!) that I have made it in the past month. I've used several different kinds of white fish as my baked fish, including snapper, grouper and tilapia. Note that if your fish is a little thinner, like tilapia, just reduce the baking time a bit.
This is also my second post on Baked Fish and Vegetables Aegean Style. I only had about three followers when I originally posted the Baked Fish (and that number included my mom and dad), so most of you probably didn't see it the first time around. But my food photography has improved a lot since my original post (and of course has a ways to go!) so I'm updating the site with this post as well.
Here's the recipe – easy!
Baked Fish and Vegetables Aegean Style (recipe from Slimmer: The New Mediterranean Way to Lose Weight by Harry Papas, recipe used with permission, it has lots of terrific recipes –  to buy the book click here)
Serves 2
2 teaspoons olive oil
8 ounces red snapper (or similar white fish like grouper or tilapia)
1 medium garlic clove, roughly chopped
Salt and pepper to taste
1/2 medium onion, thinly sliced
1/2 red bell pepper, seeded and thinly sliced
1/2 medium zucchini, cut into 1/2 inch circles or julienned into strips
3 baby carrots, thinly sliced
2 plum tomatoes, roughly chopped
1/4 cup dry white wine
Finely chopped fresh parsley
1. Preheat oven to 350 degrees F. Drizzle the olive oil in the bottom of a medium-size casserole with a lid. Place the fish in a single layer on the bottom, sprinkle the garlic, salt, and pepper over, and place the onion, pepper, zucchini, carrots, and tomatoes evenly over and around.  Sprinkle again with salt and pepper, and drizzle the white wine over all.
2. Cover and bake in the oven, occasionally stirring the vegetables to cook evenly, being careful not to break apart the fish, until the vegetables are tender and the fish is cooked through, about 1 hour.
3. Before serving sprinkle with the chopped parsley.
Makes 2 servings. Easily doubles. 
Let me know what you think!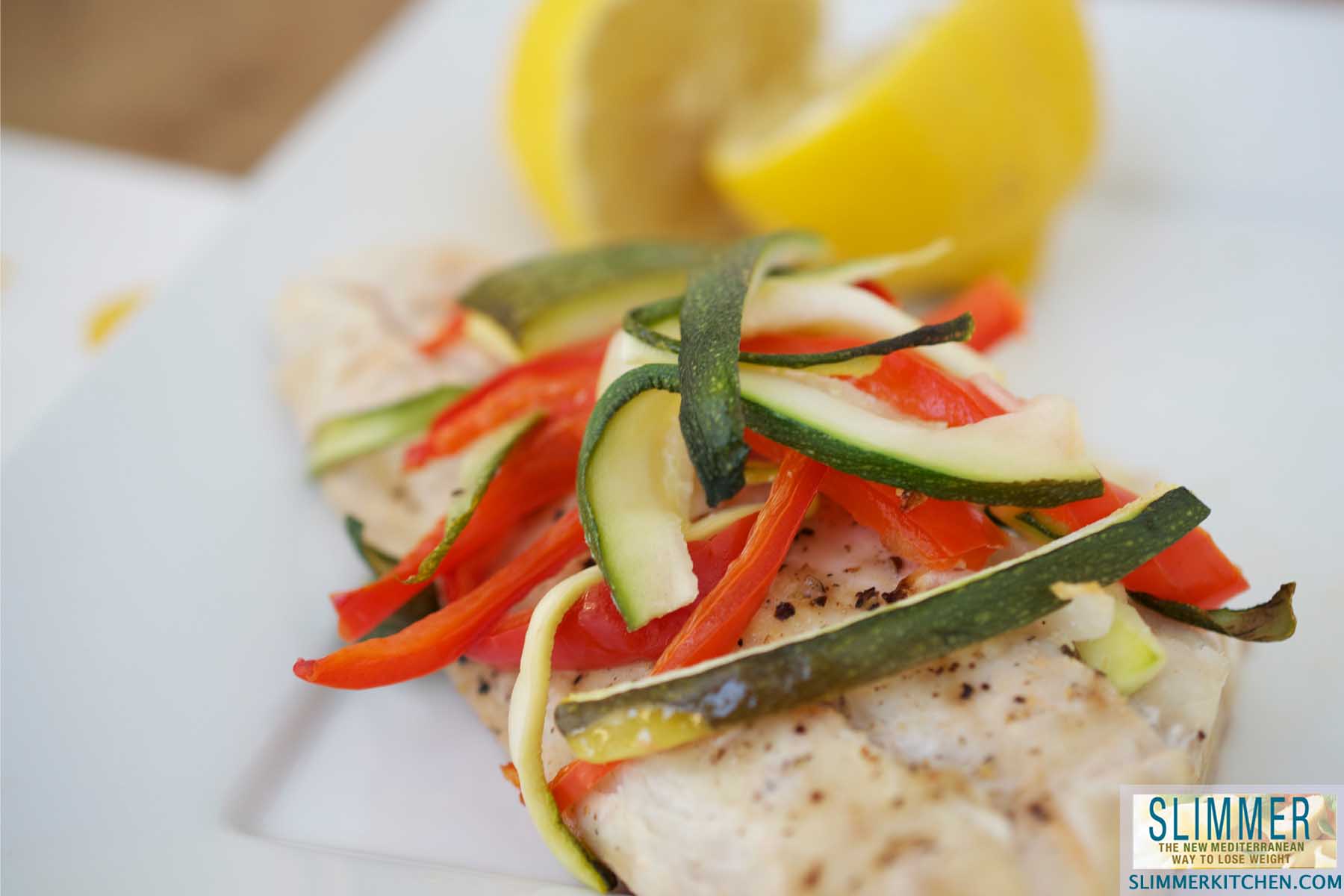 Food Photography Sources for Baked Fish and Vegetables Aegean Style:
Plate: Bed Bath and Beyond Everyday White
Fork: Tiffany & Co | Hamilton Pattern
Pan: Le Creuset Signature Deep Dish Saute Pan
Fabric: Premier Prints Suzani Corn Yellow Ley
(note these are not affiliate links)