Harry Papas is the author of international bestseller Slimmer, which has sold over 100,000 copies in Europe and was released in America in June 2012. In just one year, Harry gained 110 pounds. Then he lost it all for life. Papas, a certified dietician in Greece, shed the pounds by creating a simple yet revolutionary nutrition plan: a delicious, low-fat Mediterranean diet with revolutionary, fat-burning ingredients coupled with the self-awareness he needed to combat the triggers that contributed to his weight gain.
Harry is Greek and charming, there are a number of videos of him at the link below describing the Slimmer plan.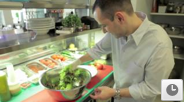 Below you can see pictures of Harry Papas before and after the weight loss that inspired the Slimmer plan.  I think he has an inspiring story, don't you?