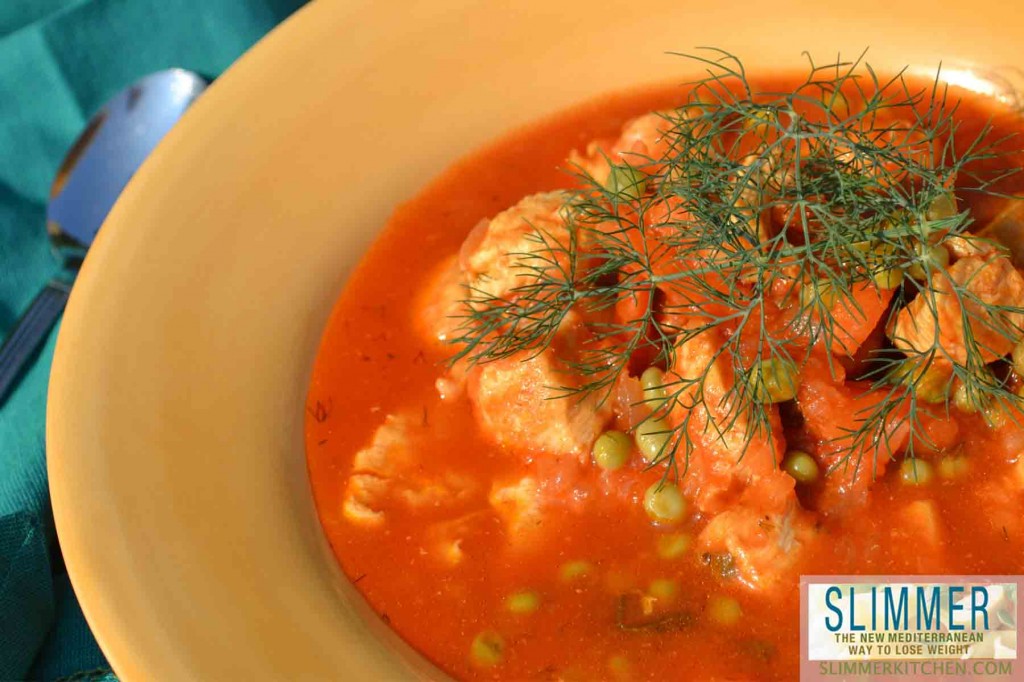 This Chicken Stew recipe has LOTS of flavor and healthy ingredients.  It tastes even better the next day.
Chicken Stew with Garden Peas (recipe from Slimmer: The New Mediterranean Way to Lose Weight by Harry Papas, recipe used with permission, book released in June 2012, to buy the book click here or visit website at www.theslimmerbook.com)  Makes 2 servings.
1 Tablespoon olive oil, plus 1 additional teaspoon set aside
1 medium onion, finely diced (I only used 1 onion even when I doubled recipe)
2 scallions, trimmed and diced
8 oz boneless, skinless chicken, cut into 1-inch cubes
Salt and pepper to taste
2 cubes frozen garden peas
1/2 small carrot, thinly sliced (I used a quarter-cup or so of pre-shredded carrot)
One 8 oz can tomato sauce
1 cup low-sodium chicken broth or water
2 teaspoons chopped fresh dill
1.  Heat the tablespoon of oil in a nonstick pot over medium-high heat. Add the onion, scallions, and chicken cubes, season with salt and pepper, and cook, stirring often, until the onion is softened and the chicken is no longer pink, about 4 minutes.
2. Stir in the peas and carrot and cook a further minute.  Pour in the tomato sauce and broth, stir well to combine, and bring to a simmer.  Reduce the heat to low and cook until the vegetables are tender and the stew is thickened, about 15 minutes.
3. Remove from the heat and stir in the remaining olive oil and dill.
Makes 2 servings.